The Ultimate Guide to Wrestling Camps
by Matt Krumrie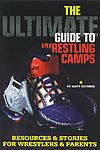 Special! Receive The Ultimate Guide to Wrestling Camps (cover price of $20) for only $10! Quantities are limited, so order now!
This book provides resources and stories that help parents and youth/high school wrestlers make better decisions when picking a wrestling camp, club or other training options. Features interviews, information and comments from over 40 top college coaches, high school coaches, Olympians, NCAA Champions, All-Americans, parents, father/son, mother/sons, women's wrestlers, father/daughter and more.
Among those providing information: Dan Gable, J Robinson, Rob Koll, Ken Chertow, Bruce Baumgartner, Gene Mills, Steve Garland, Joel Sharratt, Wayne Branstetter, Roy Hall, Jim Jackson, Mike McGivern, Mark Reiland, Steve Lander, Frank Popolizio and more! Wrestling camps and clubs are expensive, how do you know you are really making the right choice? This book helps you make the right choice for your wrestler and your budget!